The Benefits of Renting a Vacation Home Instead of Buying
One of the most important choices to make when organizing a vacation is where to stay. Travelers used to reserve hotel rooms, but in recent years, the practice of renting vacation homes has become increasingly common. Numerous advantages that can improve your travel experience and give you a special and comfortable lodging choice are offered by renting avacation home. Let's explore the advantages of renting a vacation home instead of buying one, allowing you to make an informed decision for your next getaway.
Flexibility and Variety
The flexibility that vacation home rentals offer is one of their main benefits. Renting gives you more options to choose from that are tailored to your unique needs and preferences than purchasing a property does. There is a vacation home to suit every taste and budget, whether you are looking for a cozy cabin in the mountains or a sumptuous beachfront villa.
The freedom to decide on the length of your stay is another benefit of renting a vacation home. Whether you are organizing a quick weekend getaway or a lengthy vacation, it is simple to find a rental home that supports the duration of your chosen stay. This flexibility is especially useful for travelers who like to visit several different places or who have hazy travel plans.
Cost-Effectiveness
Renting a vacation home has the added benefit of being more affordable than purchasing a home. There are significant up-front costs associated with buying a vacation home, such as the down payment, closing costs, property taxes, and maintenance costs. However, by renting a vacation home, you can benefit from having a cozy, fully furnished space without the cost of ownership.
Additionally, renting a vacation home frequently turns out to be less expensive, particularly when traveling with a group or family. Renting a large vacation home instead of numerous hotel rooms can result in significantsavings. Furthermore, a lot of vacation rentals have fully functional kitchens, which enable you to prepare your own meals and cut costs on eating out.
Home Away from Home Experience
Renting a vacation home offers a level of comfort and privacy that is difficult to match in a hotel, giving guests a home away from home experience. Vacation homes frequently have segregated bedrooms, living spaces, and private outdoor areas, offering plenty of space for unwinding and spending quality time with loved ones. Families or groups of friends who want to spend time together but still value their privacy will find this arrangement to be especially helpful.
Moreover, vacation homes often come with amenities that enhance your overall experience. From private pools and hot tubs to game rooms and outdoor grills, these additional features can elevate your vacation and create unforgettable memories. Furthermore, renting a vacation home in a residential neighborhood allows you to immerse yourself in the local culture and experience the destination like a local.
Hassle-Free Maintenance
The lack of maintenance duties is among the most important benefits of renting a vacation home. Renting a vacation home allows you to relax during your trip without worrying about maintenance, renovations, or repairs. Any maintenance problems that may occur during your stay are typically handled by the property owner or rental company, ensuring a hassle-free and enjoyable vacation.
Additionally, renting a vacation home often comes with added conveniences such as housekeeping services. Many rental properties offer regular cleaning and linen change, allowing you to focus on enjoying your vacation rather than on chores and responsibilities.
Experience Paradise with Sullivan Properties, Inc. Maui Resorts
In Lahaina, Maui, HI, Sullivan Properties, Inc. Maui Resorts is the best option for your vacation rental requirements, whether you are looking for adventure, relaxation, or a combination of the two. One of the key highlights of Sullivan Properties, Inc. Maui Resorts is the exceptional quality of our vacation rentals. Each property is carefully cared for, guaranteeing a high level of cleanliness and comfort. The tasteful decor, fully functional kitchens, and opulent amenities that adorn our vacation homes and condos demonstrate our attention to detail.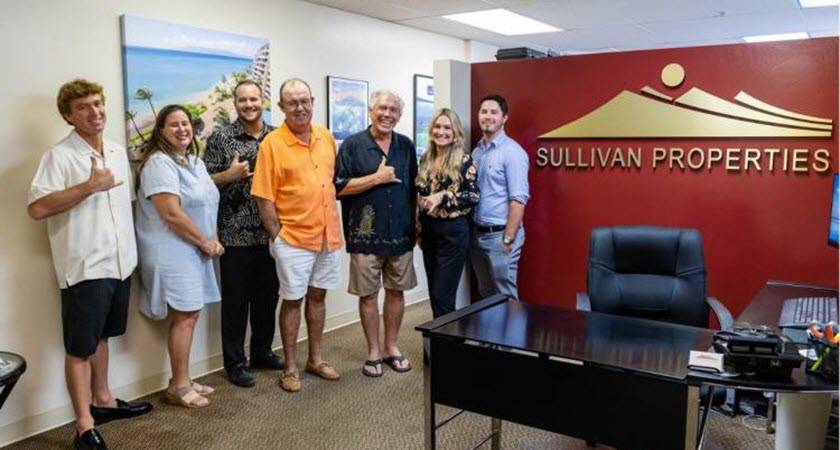 We take pride in our exceptionalcustomer service. Our friendly and knowledgeable staff is dedicated to ensuring that your stay is fully enjoyable. From assisting with the reservation process to providing recommendations for local activities and attractions, we go above and beyond to make your vacation an unforgettable one.
Trust Sullivan Properties, Inc. in Lahaina, Maui, HI, with your next vacation home and book with us today. Come immerse yourself in the beauty of the island, indulge in luxurious accommodations, and create lasting memories that will stay with you long after your trip.