Maui Real Estate
Homes, Condos, and Land for Sale
Sullivan Properties is one of the most experienced real estate agencies on Maui. We have been working with both buyers and sellers since 1979, helping our clients buy and sell Maui homes, condos, and land. Please browse through our Maui Real Estate website: sullivanproperties.com We will be happy to assist you with any Maui real estate needs.
Please feel free call us at 808-870-2438 or email us at kevin@sullivanproperties.com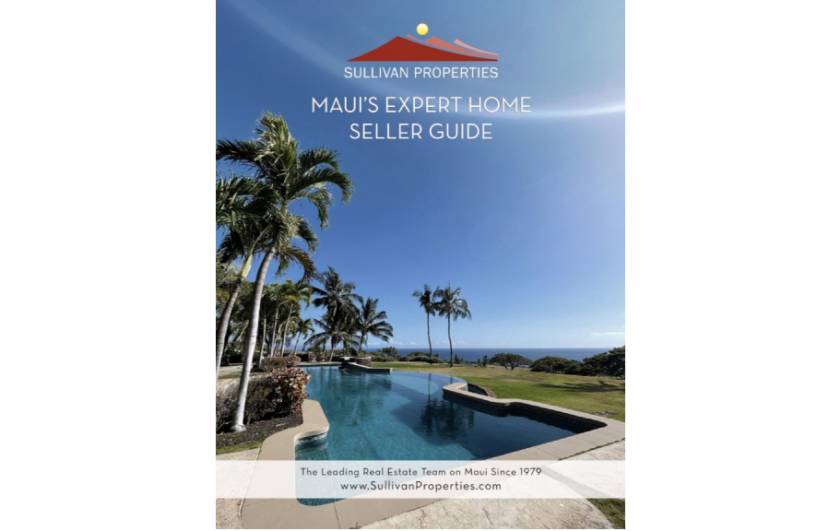 Click Here to View Our Maui Real Estate Guide Brochure
Search Maui Real Estate by Area
Maui Shared Ownership Information
Is this a Timeshare? 
NO! It's not a timeshare…IT's BETTER! Why just buy a week or two when you can own two months or more. This is actual real estate that provides you all of the privileges of ownership, like the luxury of owning a vacation condominium at the Sands of Kahana a premier, beachfront resort, on the best island in the world.
Maui No Ka Oi (Maui is the Best)
On Maui, affectionately referred to as "no ka oi" or "the best", white sand beaches stretch for miles ... the sun rises over Haleakala, the world's largest dormant volcano, and sets over the Pacific Ocean, painting the earth and sky in a palatte of dramatic colors ... and every day promises unlimited opportunities to rejuvenate body and mind.
Now, you can enjoy the magic and romance of this very special island through the Shared Ownership program at the Sands of Kahana.
This beachfront resort condominium is nestled on Maui's west coast between the resorts of Kaanapali and Kapalua. Koi ponds meander through gardens lush with fragrant blossoms, graceful trees and verdant lawns. Spacious apartments with private lanai offer breathtaking ocean views. Sporting and recreation activities abound at the resort, including two swimming pools, Jacuzzi, two gym, a putting green and three lighted tennis courts. The calm waters and sun-washed sands of Kahana Beach are ideal for snorkeling, surfing, windsurfing and sunbathing. A poolside restaurant serves delectable island specialties throughout the day. Sands of Kahana is truly one of Maui's most outstanding vacation retreats.
Shared Ownership
Almost all of us would like to own a condominium at the Sands of Kahana. Very few of us, however, would be able to utilize our condominium as a year-round resort. The cost of unused ownership may exceed financial willingness. Shared ownership presents an opportunity combining the best of whole condominium ownership (choice of a specific property) with the convenience and flexibility similar to time-share (exchange rights, professional management, affordability, and quality).
Shared ownership at the Sands of Kahana is a one-sixth undivided leasehold interest in a condominium. It allows the owner to use, rent, exchange and share two months a year for each shared interest purchased. By limiting ownership to one-sixth of a year, the buyer is freed from the obligation or concern about rental, maintenance and management of the condominium during times of the year when the owner has no interest or ability to use it.
Season by Season
When you purchase your shared interest, you choose the season "use period" that best meets your needs. Season "use periods" are 60 days in length beginning in mid-January and there are six from which to choose: Winter, Spring, Early Summer, Late Summer, Fall, and Holiday.
Affordable Luxury
Shared Ownership is available at Sands of Kahana in a limited number of two and three-bedroom units with dramatic views of the Pacific Ocean and neighboring islands of Molokai and Lanai. Sands of Kahana is ideal for families, with three-bedroom units measuring more than 2,100-sq. ft., and amenities like a children's pool and play areas. Some of the best locations in the complex were selected.
Carefree Vacation
The Sands of Kahana is exactly what a vacation home should be - a worry free place to relax. Your Shared Ownership Association has hired a licensed and bonded property management company (Plan Manager) to oversee the affairs of your property.
Before you arrive, the Plan Manager will arrange maid service, needed maintenance -- in short do all that is necessary to assure that your Maui home is ready for your enjoyment.
To assure quality operation and maintenance of this condominium, The Shared Ownership Association prepares a detailed maintenance budget yearly to provide you with a well-maintained condominium. This includes items such as management, insurance, Sands of Kahana Owners' Association dues, real property taxes, leasehold payment, utilities, accounting, and a reserve for replacements.
Limited Offering
Shared Ownership is a unique opportunity to buy luxury accommodations on Maui. There are few condominium units available. Each provide an unspoiled, romantic view of Lanai, Molokai, and the Pacific Ocean with unsurpassed sunsets . . . Most importantly; each shared owner has the advantage of owning a prestigious second home while paying only for the amount that he or she will realistically use. Shared Ownership – your slice of paradise…is waiting for you.
Additional Details about Fractional Shared Ownership: 
1. DEVELOPER
Fractional Ownership, Inc., a Hawaii Corporation is the developer of the fractional interest plan. It can be reached at: 10 Hoohui Road #110, Lahaina, Hawaii 96761 or by telephone at: (808) 669-0423.
2. PLAN MANAGER
Owners of "fractional shares" will manage the fractional ownership plan (the "plan") through an association of fractional share owners (the "association"). An agent (the "plan manager") has been hired to help them do so. The plan manager is Sullivan Properties, Inc., a Hawaii corporation. The Association hired it under a management agreement dated August 1, 1998.
3. FRACTIONAL OWNERSHIP PLAN
a. This is an Ownership Plan
In this plan, the individual ownership interest is a one-sixth interest (about sixty days each year). In ownership plans like this one, people share not just the use but the legal ownership of the property. The property they each own is called a "fractional share".
b. What is a "Fractional Share"?
A fractional share consists of:
A 1/6 th ownership share of an apartment in the plan under an apartment deed and ground lease; the right to use that unit, its furnishings, and the amenities of the condominium project for about sixty days each year.
The owner of a fractional share will also be a member of the Association. The membership cannot be severed from the fractional share.
I. The Nature Of Your Ownership Share: Each Buyer will own a 1/6 th share of the apartment and the ground lease for the apartment. In legal terms, this share is called an "undivided interest: meaning that each owner's share is separate from the others. For example, each fractional share can be sold or mortgaged separately. The legal concept of "tenants in common" includes other rights and duties. But in this plan, these matters will be controlled first by the documents, called the "program documents", that created and govern the plan, not the general law regarding tenancies in common.
II. Schedule of Sixty-Day Periods: The program documents divide the year into six spans of about sixty days each, called "sixty-day periods", plus a five-day "service period". The sixty-day periods begin on January 15 of each year and are named as follows: (1) Winter, (2) Spring, (3) Early Summer, (4) Late Summer, (5) Fall, and (6) Holiday. These six sixty-day periods make up the "use year". The use year begins at check-in time on the first day of the Winter sixty-day period, which is January 15 of each year. Each sixty-day period begins and ends on the dates shown in the schedule of sixty-day periods. A copy of the schedule of sixty-day periods is attached hereto as Exhibit "1".
III. Your Use Rights: For each fractional share you own, you have the right to use your apartment for one sixty-day period each use year. This right, if not used in the use year, does not carry-over to the next year. The sixty-day period an owner may use is called a "use period". The use period for your fractional share will appear on the front page of your sales contact and also in your "Warranty Deed and Assignment of Lease".
 4. YOUR OTHER RIGHTS AND RESPONSIBILITIES
You may allow someone else to use your use period or you can even rent it. You will be fully responsible for the actions of your tenants and guests (your "visitors") but not for someone whose use is arranged through an internal or external exchange (an "exchange user"). You must pay your visitor's debts if they do not.
No owner or other occupant may interfere with another's use, for example, by using an apartment when he or she is not supposed to or by damaging an apartment so it cannot be used. Anyone who does so (the "offender") may be evicted at once and must pay all damages and costs involved. These include (but are not limited to) the expenses of any "injured" person (someone whose use is prevented) and of the Association such as, for example, the cost of evicting the offender, including court costs and attorneys' fees, and/or in renting another place for the injured person to stay and travel costs. The offender must also pay the injured person an amount equal to twice the fair rental value of the apartment for each day or part of a day during which use of the apartment is prevented.
The program documents limit the maximum number or occupants for any unit. At present, the maximum allowable occupancy for any one-bedroom apartment is four (4) persons; for any two-bedroom apartment is six (6) persons; and for any three-bedroom apartment is eight (8) persons. If county law or the condominium documents set a lower limit, that law will apply.
Pets are not allowed. No one except the Developer may use an apartment for commercial purposes, other than rentals.
Each owner and occupant must take care of the unit and its furnishings during his or her use. Owner must leave them intact and in good condition, except for ordinary wear and tear and damage caused by an unavoidable casualty or accident. An Owner must pay for any property, which is damaged, lost or missing at the end of his or her use period. Owners must also remove all personal effects by the end of their use period. Personal effects not removed will be considered abandoned and may be thrown away, sold or given away unless the Association Rules provide otherwise.
Owners will maintain, improve and change: (a) the units and furnishings in them only through the Association; and (b) the rest of the condominium association. They must not act on their own.
5. HOW THESE COSTS ARE SHARED
The owner of each fractional share pays a share of the plan expenses for each fractional share owned. Each owner's share is called the "Association fees" or the "normal assessment". The share for each fractional interest is based on a comparison of the common interest of one unit to the total of the common expenses for all units in the plan. The "common interest" is the ownership share each unit has in the common elements of the condominium. The common interest of each is stated in the condominium documents.
The share for each fractional share in a unit is calculated by multiplying 1/6 th by the following fraction:
The common interest of all units for which assessments have begun under the program documents. Assessments for a unit begin when the first sale of a fractional share in that unit closes and is recorded. When assessments begin after January 15, the share for fractional shares in that unit is prorated so that assessments are charged only for the number of full months remaining in the year.
Each owner's normal assessment cannot increase more than 20% each year except for increases due to an increase of taxes, lease rents, or condominium association fees unless the owners approve a higher amount. If there is a shortfall in the budget or loss or damage to a unit or the common furnishings, the Board can charge a special fee called a "special assessment". The amount of special assessments charged in one year for repairs or replacements cannot exceed 10% of the normal assessment for the year and special assessments charged for any other reason cannot exceed 5% of the normal assessment for the year unless the owners approve a higher amount.
6. DEVELOPER IS THE PLAN MANAGER AND SALES AGENT
Developer's Affiliations. The developer is affiliated to the sales agent and the plan manager.
Fractional Shares Are Offered As Real Property. Fractional shares will be offered and sold as real estate using traditional and innovative real estate sales methods. Fractional shares should be purchased for personal use and enjoyment, not as an investment. No promises about rentals, resales, or any other economic benefit are made or authorized.
Since a fractional share is an interest in real estate, the risk of temporary or permanent loss or damage to this interest is on a buyer after closing. If a buyer purchases on credit, the buyer still has to pay his or her note and mortgage, and all net proceeds, if any, from insurance (or from the government, if the loss is because the government takes the property through condemnation) must be applied first to the payment due under the note and mortgage, unless the program documents, the condominium documents or the apartment leases require rebuilding. If available proceeds from insurance, condemnation or other funds are not sufficient to pay for the costs of restoring or rebuilding, each owner must pay his or her share of the difference.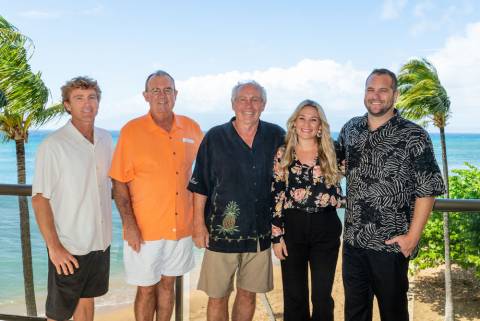 Sullivan Properties was established by a World War 2 veteran Robert B. Sullivan in 1979, who over the years established a legacy of integrity, experience, quality, and hard work. His son Patrick, and grandchildren Kevin and Kelly continue his legacy. Our welcoming office in Kahana, Maui is open 7 days a week, where we are ready to help you with your Maui Real Estate needs.
Pictured from the left to right:  Kevin Sullivan R(S), Steve Moses R(S), Patrick T. Sullivan R(B) - the Principal Broker of the firm, Kelly Sullivan Johnson R(B), and Zachary Johnson R(S).  We all work together seamlessly to serve our clients, helping them buy and sell their Maui Real Estate. Learn more about our Real Estate Team.  
Please contact us by phone at 800-332-1137 or email us at kevin@sullivanproperties.com
Learn more about our team. We are looking forward to hearing from you.
Aloha!!