Founder of Sullivan Properties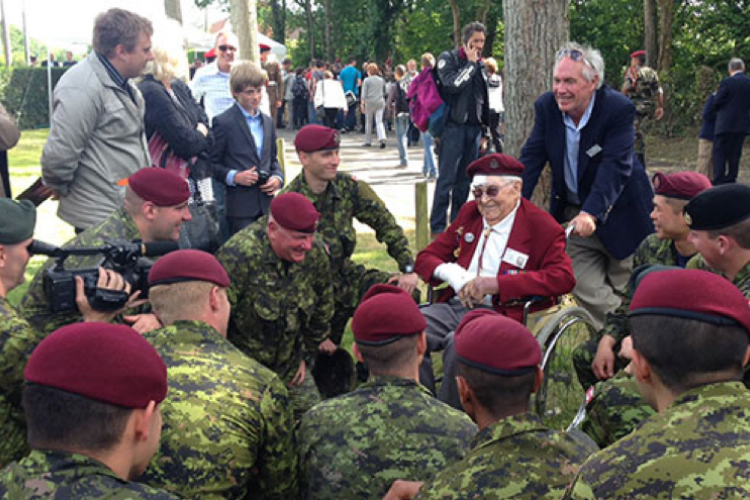 Early Life & Service
Robert B. Sullivan has had many accomplishments in his life but one we are very thankful for is the family owned and operated real estate, vacation rental, and property management business on West Maui, Sullivan Properties Inc. Robert grew up in Salem, OR and attended the University of Oregon. When the United States got involved in World War II, Robert- then a sophomore at the UO- decided it was his patriotic duty to enlist. 
There was just one problem, he wanted to be a pilot, but the US Air Force wouldn't take him because he was colorblind. 
"A friend of mine went to Canada and was a pilot," Robert said. "He said he didn't have any difficulty, so I could go. I joined the Canadian Army in Seattle and went across the border. There were seven of us, but only I wasn't taken—because I was colorblind. I decided to stay in Canada, and the closest thing I could find to being a pilot was being a paratrooper, so I volunteered to do that." On the morning of June 6, 1944, now recognized as D-Day, Robert jumped out of a plane in Normandy, France. After three long months in battle at Normandy, Robert and his troops were sent to England to regroup and prepare for the Battle of the Bulge. In February 1945, after a concerted letter-writing effort, Robert's requested transfer to the US Army was approved and he was sent back to England to join their ranks. Three months later, after one final tour in France, the war ended and Sullivan returned to Oregon and the UO. For more information and stories on his war experience, see the UO Alumni Association website
Legacy in Maui, HI
Robert started his real estate career in Oregon at age 27, when he started Sullivan Realty. He sold his first home in Salem, OR for $6500. Then in 1949, Robert became a proud graduate of the University of Oregon. Since then he has had many entrepreneurship endeavors over the years, one being an Avis Car Rental franchise co-owner for the Aloha State. After the Columbus Day Storm of 1962—Robert and Paula (wife) Sullivan, along with their children Tim, Pat, and Molly, said farewell to Oregon and moved to Hawaii, where the couple had two more children—John and Mike. Further business opportunities allowed Robert to settle in historic Lahaina Town on Maui, where he has now resided for over 45 years and enjoys the simple life at 93 years young!
Robert was one of only three Brokers hired by Kapalua Land Company in 1975, to sell the initial offerings of The Bay Villas, The Golf Villas, The Ridge Villas and the Ironwoods @ Kapalua Resort. He then started Lahaina Towne Brokerage in 1979, which later became Sullivan Properties in 1988, thanks to the efforts of Robert B. Sullivan and his son Patrick T. Sullivan. What started out solely as a real estate brokerage is now a successful family owned and operated real estate, vacation rental, property management business and activity concierge service. Patrick T. Sullivan also attended the University of Oregon, where he got his business degree in real estate and finance, is now owner and Principal Broker of the firm. His daughter Kelly J. Sullivan is following the family tradition and works for the company as a real estate agent and plans continue the business for many years to come. Patrick's son, Kevin P. Sullivan, is a professional surfer who operates a surf lesson business on Maui as well and instructs many of the vacation rental guests how to surf!