Things to do on Maui
Outdoor Activities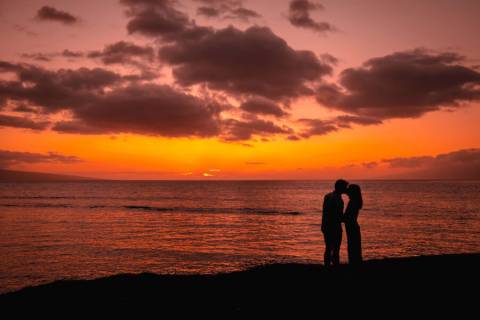 Complimentary Photoshoot
Take home professional high-resolution photos by Maui Moments - local Maui professionals with lots of experience photographing couples, families, and groups of all sizes. They will find the perfect Maui location to capture your best Maui pictures!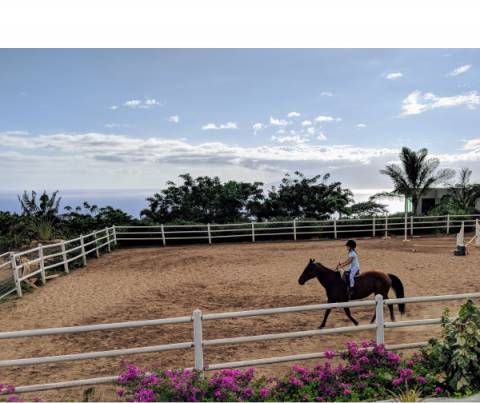 Horseback Riding
Horseback riding on Maui is a perfect activity where you and your family can enjoy Maui's beautiful views and connect with nature while social distancing. Below are some of the best places on Maui where you will enjoy private or group lessons and trail rides:
Riding with Aloha - Horseback Riding lessons for adults and children with panoramic ocean views on the hills of Launiupoko in West Maui. Call Naomi Collins to reserve your lesson: 503-562-9868
Ironwood Ranch Horseback Riding - pony rides for kids, scenic fun rides, horseback riding parties, eco-historical tours on horseback: 808-669-4991
Makani Olu Ranch in Wailuku offers trail rides and horseback riding lessons for kids and adults: 808-870-0663
Playing Golf in Maui
What could be better than riding in a golf cart at the Maui foothills, playing a round of golf with your friends, enjoying majestic ocean and mountain views, and then having lunch at one of the golf course restaurants. Now that we are entering the whale season, while playing golf you will able to see the whales breach. 
Kaanapali Golf Courses:
The Royal Kaanapali Course is located on the sacred land that was once home to the Royal Chiefs of Maui. On your journey through the Royal Course, notice the historical plaques on each tee, sharing local history and stories. The views from the Royal Kaanapali Course are absolutely stunning. 
At the Kaanapali Kai Course your journey will begin on the oceanside and will take you into the Maui foothills, offering breathtaking ocean views and the views of the neighboring island of Lanai and Molokai. 
Kapalua Golf Courses:
The Kapalua Bay Course is a championship course that is as challenging as it is beautiful. It is known for its 17th hole - the only hole to play over the ocean on Maui. 
The Plantation Course is consistently ranked as the #1 golf course in Hawaii, offering dramatic ocean views from virtually every hole.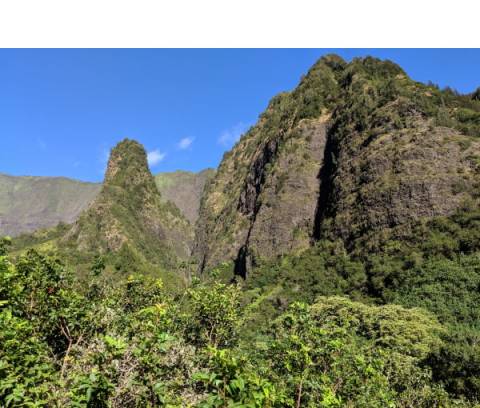 Visiting Iao Valley
Iao Valley is a National Natural Landmark and a Hawaii state park, located in Wailuku. The park is located on over 6 acres of dense rainforest with organized pathways and vista points. The park is dominated by the Iao Needle - a 1,200 feet vegetation-covered lava remnant. 
Iao Valley is a natural wonder that is popular with visitors looking to experience lush Hawaiian mountains and crystal-clear water streams. Please be careful to stay on the path and not wander off into the rainforest. It's best to come here in the morning to enjoy the sun rising over the mountains.
The valley is a Hawaiian cultural landmark - it is a historic site of the battle of Kepaniwai where the forces of Kamehameha I conquered the Maui army in 1790.   
The Iao Valley park is open daily from 7am to 6pm. Entrance fee is $5 per person. Children 3 or under enter for free. Parking for non-commercial vehicles is $10.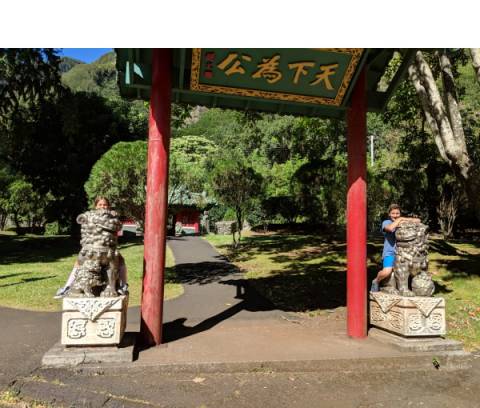 Visiting the Heritage Gardens (Kepaniwai Park)
If you are looking for a picnic spot after visiting the Iao Valley where you can learn about cultural groups living in Hawaii, you might enjoy stopping at the Heritage Gardens Kepaniwai Park that is located right next to the Iao Valley. It is only a one-minute drive away from the Iao Valley, so drive carefully because the entrance is easy to miss.
At the Heritage park both visitors and the locals enjoy walking through small gardens and cultural pavilions where they learn about immigrants' contributions to the Hawaiian culture and history. This is a great place to bring children and introduce them to small samples of Chinese, Japanese, Korean, Portuguese, and more cultural elements. 
Picnic tables, free parking, and bathrooms are available at this park.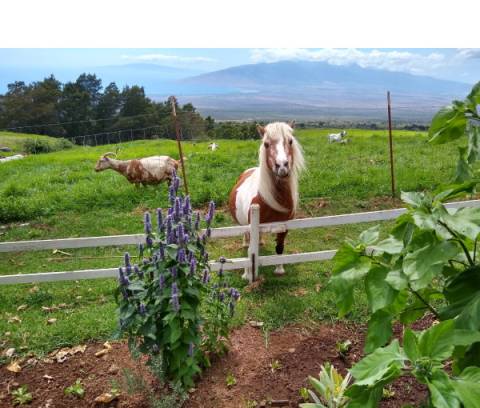 Visiting Kula Country Farms
Located on the majestic Haleakala foothills, Kula Country Farms is known for their delicious strawberries, fresh produce, and annual pumpkin patch. Fresh produce can be bought at their farm stand.
Kula Country Farms is a family-owned food-safety certified farm that welcomes visitors. They have farm animals, a children's garden, and a sunflower patch. They grow a variety of produce that includes blueberries, strawberries, pumpkins, squash, asparagus, zucchini, cucumbers, herbs, flowers, and more. They also sell local honeys, jams, and baked goods. The farm stand hours are Monday-Saturday 9am-4pm. They are closed on Sundays. 
Visiting the Whalers Village
The Whalers Village just reopened the water fountains and the climbing structure for children that were closed for almost 2 years due to the pandemic. There are shaded picnic areas around the playground where adults can relax or eat a meal while their kids play in the fountains and climb on the play structure.
The Whalers Village is a beachfront shopping center located in the heart of the Kaanapali Resort area. It offers upscale shopping and dining experiences. Beachfront restaurants include The Monkeypod Kitchen by Merriman, The Hula Grill, and Leilani's on the Beach. The shops include SoHa Living, LuluLemon, Sephora, PacSun, and a lot of local stores where you can buy your beach essentials and souvenirs to take back home. 
The Food Court has Joey's Kitchen, Nikki's Pizza, and Maui Poke. One of our favorites in the Whaler's Village is the Island Vintage Coffee - serving delicious breakfast and lunch, acai bowls, and fantastic Hawaiian coffee. Da Nani Pirates food truck is also very popular with both the locals and the visitors.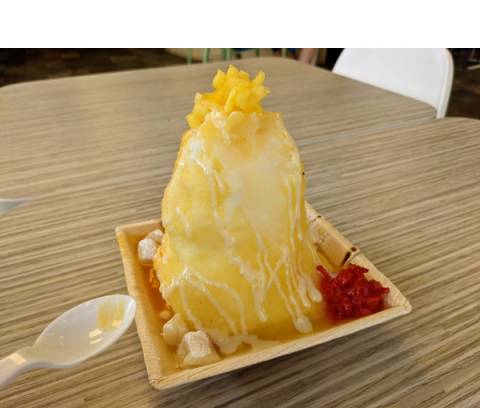 Eating Shave Ice
In Hawaii it is called "Shave Ice" without the 'd'. On Maui you can try a big variety of Hawaiian Shave Ice.
The Island Vintage Coffee just opened a shave ice stand at the Whalers Village in Kaanapali. This place offers a modern twist on this Hawaii's favorite treat - they use fruit purees instead of traditional syrups, and add real fruit and boba pearls to their creations. Our favorite part is that they use compostable palm branch containers for their delicious shave ice. (see photos). If you park at the Whales Village, make sure to get your parking validation when you buy your shave ice there.
Other popular places that serve Shave Ice are:
Ululani's Hawaiian Shave Ice with multiple locations, including the Hyatt Regency resort in Kaanapali (just steps away from our The Whaler on Kaanapali Beach Resort), also on Front Street in Lahaina (prepare to wait in line, it is a very popular location), and in Kihei, Kahului, Wailuku, and Paia.
Hawai'i Gelato on Front Street in Lahaina offers delicious shave ice and a large selection of Maui-made gelato.
Island Cream Co in Lahaina Gateway Center will let you customize your own shave ice by giving you access to the syrup dispenser. This is a local favorite shave ice and ice cream place for Maui kids where they create their own shave ice flavors.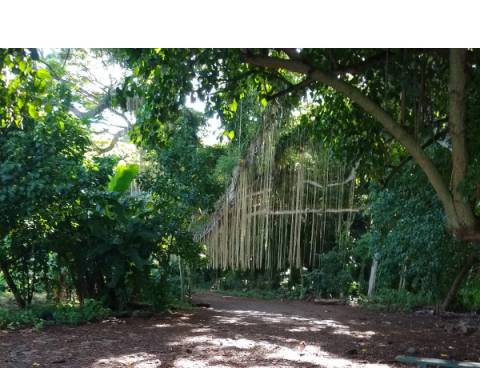 Visiting Honolua Bay 
Honolua Bay is a natural rainforest that leads to a gorgeous secluded bay which is a popular snorkeling spot. Parking is limited, so we recommend getting here early. Bring a picnic breakfast or lunch as you will most probably want to stay here for a while. When you are walking on the rainforest path to the bay, you will see ancient trees, green papayas, wild roosters and chickens, and a seasonal running creek. This short path in the jungle invites its visitors to slow down, take a deep breath, and look up at the surrounding greenery. Please stay on the path and respect this Hawaiian sacred place, as Honolua Bay is a site of unmarked graves located in the rainforest. 
Honolua Farms Kitchen food truck is still temporarily closed. Please plan to bring water and food with you. There are no trash cans in Honolua Bay, so please plan to bring a bag for your rubbish and take it with you to dispose of at your resort. Portable toilets are available by the entrance to the rainforest (next to the parking lot). 
If you are planning to go snorkeling at the Honolua Bay, we suggest bringing reef shoes since the bay is rocky. You can buy reef shoes at any ABC store or Whalers General store. Honolua Bay is one of those places that stays in your heart long after you visit. It's better to come early in the morning to fully enjoy its beauty before it gets crowded during the day.
Shopping at the Outlets of Maui
Now is the ideal time to visit the Outlets of Maui in Lahaina to find great deals, stock up on Christmas presents, and enjoy this oceanfront charming shopping mall. The outlet shops are well organized and almost never crowded, providing pleasant shopping experience while social distancing. The shops at the mall include: The Coach, Banana Republic, The Lucky Brand, Calvin Klein, Adidas, ABC Store, The Gap, Kate Spade, Le Creuset, Michael Kors, Skechers, Solstice Sunglasses, Tommy Hilfiger, and more. 
The mall is open Monday - Sunday 11am - 8pm. 
The parking is still free - you can do your shopping here and then walk the Historic Front Street while your car waits for you in a spacious parking lot. The Outlets of Maui has 3 large oceanfront restaurants that welcome walk-ins and provide outside seating - Tommy Bahama Marlin Bar, Waikiki Brewing Company, and Pi Artisan Pizzeria. The food at all these restaurants is delicious and the service is very friendly.
Lahaina Adventure Park and Maui Zip Lines
Ziplining over Maui rainforests or climbing the rope courses at the Lahaina Adventure Park are perfect social-distancing activities. 
Lahaina Adventure Park was built during the coronavirus pandemic and is now open, offering 3 different skill-level rope courses for all ages. It quickly became one of the favorite activities for local Maui families and visitors. Children have to be 5 years old to participate. Kids ages 5 to 7 require parental supervision. 
They also added an Axe-throwing League space. Reservations in advance are required. Axe-throwing participants must be at least 13 years of age. 
Kapalua Ziplines offers the only dual zipline on Maui where 2 people can zipline side by side and share their experience flying over the rainforest and enjoying panoramic ocean and mountain views. Kapalua Zipline Adventure includes a suspension bridge track and an ATV ride to the zipline. You can select between a 4-line and 6-line zipline tour. Ziplining participants must weigh between 60 and 250 pounds. Children must be at least 10 years old and be 4 feet tall to zipline. 
Another popular zipline course is Haleakala 5-line Eco Adventure tour that has an Indiana Jones-style swinging bridge and Hawaii's only pendulum line providing a thrilling speed of 45 mph. Skyline Hawaii also offers a bundle of Haleakala Sunrise and Zip Tours. Haleakala Sunrise continues being one of the most popular activities on Maui where one can enjoy a 360-degree panoramic view of the Haleakala crater and the Pacific Ocean.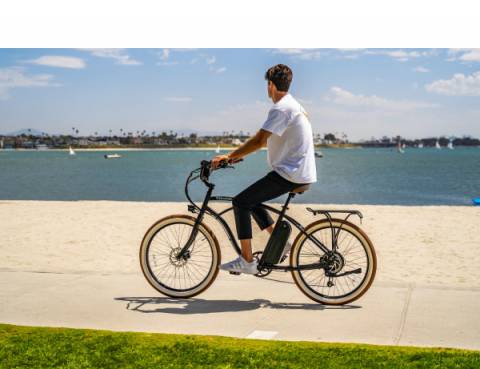 Riding an Electric Bike
With car rental shortage on Maui, many visitors choose to take a shuttle from the airport and rent e-bikes during the day. Exploring Hawaii on an e-bike is becoming more popular. Kaanapali and Kapalua provide an abundance of hills and vista points where you can explore, breathe fresh cool air, and exercise at the same time. 
There are 2 E-bike rental places in Kaanapali: RideSmart Maui Electric Bike Rental and Black Rock Bikes.
In Lahaina you can rent an electric bike at West Maui Cycles.
In Kihei, there is Maui Electric Bike Rental.
In Makawao, there is Krank Cycles. 
All the bike shop rentals are open daily. Most of them don't allow riding their bikes down Haleakala. Bike Maui and Maui Sunriders offer guided and self-guided Haleakala Downhill bike tours.  
Visiting Ali'i Kula Lavender Farm
Ali'i Kula Lavender Farm is one of Maui's hidden treasures. Nestled in the lush slopes of Haleakala at a 4000 ft elevation, the Lavender Farm offers spectacular ocean and island views and cool weather. Located on 13.5 acres of sloping land and providing plenty of free space to walk around and enjoy the lavender and other local plants, it is a perfect place to visit during the covid times when social distancing is a priority.
Updated Hours: Friday, Saturday, Sunday, Monday 10am - 4pm
Admission fee is $3, with a senior and military $1 discount. The admission fee is waived if you bring one non-perishable food item per visitor for the Maui Food Bank. 
There is a gift shop and a cafe on the property. We highly recommend trying their lavender scones and lavender lemonade.
Eating at a Food Truck
With many Maui restaurants being booked weeks ahead, buying breakfast, lunch, or dinner at a food truck is more popular than ever. We love:
Aloha Braised food truck for lunch (Open Mon - Fri 10am - 2pm), specializing in diverse Hawaiian home-style cuisine, located at the Grocery Depot parking lot. Popular Dishes: Homemade Hamburger Steak, Mochiko Chicken, and Braised Pork Belly with Thai Slaw.
Earth Aloha Eats food truck for lunch and dinner (Open Mon - Sun 11am - 8pm) serving plant-based vegan cuisine with many gluten-free options, located at the Safeway parking lot.
Ono Tacos food truck for lunch and dinner (Mon - Sat 11am - 9pm), serving delicious Mexican cuisine, located at the West Maui Center (same as Subway parking lot).
Food Truck Park in Honokowai at 130 Kai Malina Pkwy. Explore a selections of local Maui food trucks that are open for dinner, where everyone in your group can find something they like. There is planty of outdoor seating! 
Hiking the Kapalua Coastal Trail
The Kapalua Coastal Trail is an absolutely gorgeous trail that leads through the whole Kapalua coast. This is a place where local people come to recharge by walking through the beautiful coast line, observing the natural lava formation that is called The Dragon's Teeth and going through the Kapalua Labyrinth. There is a small parking lot at the intersection of Office Road and Lower Honoapiiliani Road. If you don't find parking there, you can park at the Honolua Store parking lot and walk down the Office Road to the Dragon's Teeth access trail.
After walking through the access trail, you will get to the lava formation. There is no clear path on the lava, so you can walk anywhere to explore this natural wonder. In the middle of the lava formation, you will see a man-made walking labyrinth. It's fun to walk through the labyrinth with the whole family. After you walk around the Dragon's Teeth, come back to Lowel Honoapiilani Road and walk to the right for a few minutes until you get to Kapalua Place. There, go to the right toward the Ironwood beach entrance and you will see a coastal trail boardwalk on your left. Follow this boardwalk and enjoy the panoramic views of the Ironwood Beach and the North-West Maui trade winds. After you finish the boardwalk, follow the rock path. You will see bird nesting areas in the grass, so please stay on the path to avoid disturbing the birds. After you finish the rock path, you will enter a paved path that will cross Bay Drive and will continue along Montage Kapalua Bay. Follow the paved path toward the Kapalua Bay Beach, make sure to stop at the Kapalua View point to enjoy the beautiful Namalu Bay.
The Kapalua Coastal Trail ends at the Napili Kai where you can grab lunch at the Sea House Restaurant that offers delicious food and fantastic views of the Napili Bay. Please take a look at our selections of Kapalua and Napili Condo Vacation Rentals when you are planning your Maui trip. Most of our vacation rentals are oceanfront and beachfront.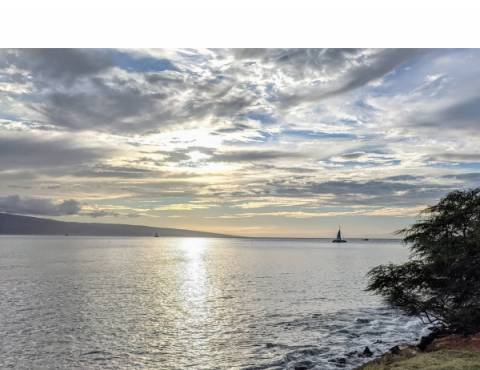 Sunset Picnic 
With the restaurants having capacity restrictions and requiring immunization cards, we suggest grabbing a takeout from one of our favorite takeout-friendly restaurants or food trucks (see above) and enjoying a sunset picnic dinner. Here we have a few of our favorite sunset picnic places:
Hanakao'o Park (known as the Canoe Beach Park) and the adjacent Wahikuli Wayside Park. These oceanfront parks offer oceanfront picnic tables, walking trails, bathrooms, bbq grills, plenty of parking, and stunning ocean views. You can enjoy a peaceful picnic here and watch a beautiful sunset. This is also a great place for whale watching when the whales come to Hawaii from Alaska in November and stay here until April.
Launiupoko Beach Park is wonderful for picnic sunsets. This is a large beachfront park located between Lahaina and Olowalu, offering a beautiful white sand beach, a large green lawn, many picnic tables, bathrooms, and a large parking lot with more parking available across the street. The Launiupoko beach has a small lagoon that is great for young kids to play in. Sometimes, a Hawaiian monk seal comes to rest in that lagoon. Please make sure to keep your distance from the monk seals and turtles - they are protected endangered species - approaching them is against the law. The main part of the beach offers small and moderate size waves, making it a popular destination for surfers of all levels.
The Baby Beach is a perfect place to enjoy the sunset, especially if you have young children. Bring a picnic blanket or beach chairs and enjoy your picnic dinner at this peaceful beach where your little ones can play in the calm water and you can relax and enjoy the views of Lahaina Harbor, Lanai, and Kaho'olawe. Our favorite places to grab a takeout near the Baby Beach are the Marlin Bar by Tommy Bahamas (where you can order food online) and the Star Noodle (where you can call in advance to order, it takes about 30 minutes as they are a very popular place.) To pick up Marlin Bar's take out, you can park at the Outlets of Maui mall. To pick up the Star Noodle takeout, we suggest parking at the Longs or Safeway parking lots since the restaurant's parking is usually full.
Kahekili Beach Park (known as the Airport Beach) is our most favorite sunset picnic spot on Maui. Kahekili Beach Park is located at the Kaanapali Beach, offering stunning sunset views, a green beachfront lawn, a parking lot, bathrooms, a couple of picnic tables, grills, a boardwalk, and views of both Lanai and Molokai - the neighboring islands. We recommend bringing your beach chairs or a blanket in case the tables are taken. Our favorite restaurant nearby is the Castaway Cafe that offers delicious food and drinks. We love their fish tacos, burgers, and the Mahi Mahi Cobb Salad. We also recommend their Mai Tai and Lava Flow drinks. It's best to leave your car at the Kahekili Beach parking lot and walk to Castaway Cafe via the boardwalk or Kai Ala Drive. 
For more friendly takeout places, we recommend China Bowl - our favorite Chinese restaurant, Moku Roots - vegan restaurant, Round Table Pizza, Pizza Hut, Panda Express (with an easy drive-through), and Waikiki Brewing Company on Front Street.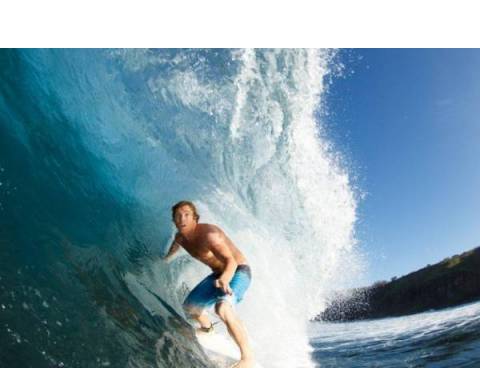 Surfing and Stand Up Paddleboarding (SUP) Lessons
Hawaii is believed to be the birthplace of surfing where it is a part of the Hawaiian spirit and culture. Now is a perfect time to book a surfing lesson which provides social distancing and being outside in clean Maui waters. Maui offers multiple surfing spots for all difficulty levels, starting from the smaller Lahaina waves for the beginners, going to the intermediate waves in Kaanapali, and ending with the larger waves in Kapalua and Honolua spots for professional surfers. 
Stand Up Paddleboarding is another popular water activity here on Maui. Paddleboarding in the crystal clear Hawaiian waters, while gazing at the beautiful ocean and neighboring islands, provides a calming experience and a full-body workout.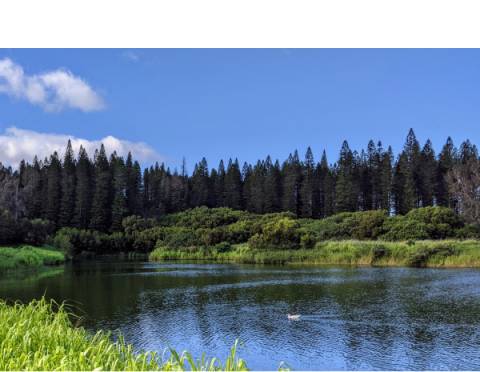 Hiking the Village Trails to the Duck Pond
One of the best hidden hikes on Maui is the Village Trails in Kapalua that lead to the Duck Pond. This is a moderate level hiking trail that goes up and down the hills, offering stunning ocean views in some sports. We recommend parking at the Honolua Store parking lot. After you park, cross the Village Road toward the Taverna restaurant and follow the golf course path down the hill and through the tunnel. There are not too many signs on the path, so please be careful not to get lost. Please bring plenty of water with you. Bringing strollers is not recommended because some hills are a bit steep.
The Duck Pond is a relaxing place where you can have a picnic and feed the ducks. If you want to spend some time at the pond, bring a blanket or a towel to sit on. You will be amazed by the beauty of Kapalua forest and this magical spot. The hike takes a couple of hours to get there and back and you will probably be hungry by the time you come back to your car. We highly recommend grabbing lunch at Honolua Store, one of the oldest and most popular West Maui eateries. They have a large variety of food that you can enjoy at their outdoor sitting area.
If you like Kapalua and think of  staying there during your Maui vacation, we recommend looking through our collection of Kapalua Condo Vacation Rentals and book directly on our website to save on third party fees.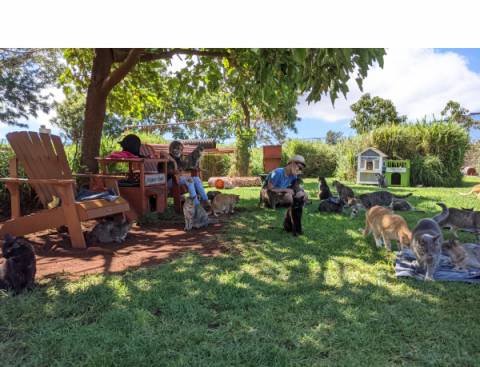 Taking a Day Trip to Lanai and the Cat Sanctuary
We love taking day trips to the neighboring island of Lanai. The Lanai ferry takes about 50 minutes to get from Lahaina Harbor to Manele Harbor in Lanai. The ferry tickets need to be reserved in advance. Please come to the Lahaina Harbor at least half an hour before departure. Face masks are required on the ferry, on both inside and outside decks. 
At the Lanai Harbor you can grab breakfast at the Manele General Store and enjoy your meal at the harbor or go to the nearby The Hulopoe Beach Park - a large white sand beach with picnic tables, bathrooms, and plenty of shade under the trees. You can spend the whole day here if you bring your beach blanket. 
If you like cats, you will love Lanai's Cat Sanctuary. It is open daily from 10am to 3 pm. Located on 3.5 acres of land, the Cat Sanctuary provides shelter, food, and medical care for over 600 cats from Lanai and Maui. It is a perfect place to visit with the whole family where you can stay for hours, spending time with many friendly cats. Upon entering the sanctuary, you will get a bag of cat treats to share with the cats you will meet. The entry is donation-based. Getting there requires a 20-minute taxi ride. Our favorite Lanai taxi driver is Alberta De Jetley who is a Lanai historian and a writer. You can call or text Alberta to reserve a taxi ride in advance. She can drive you to the Cat Sanctuary and later pick you up to get you back to the ferry. Her phone number is 808-649-0808.
If you wish to rent a car in Lanai City to explore the island, see our Car Rental page.
For a luxury trip to Lanai that includes a catamaran ride, guided cultural experience, and BBQ lunch, we recommend the Discovery Lanai expedition with Trilogy.
If you have time during your day trip to Lanai, we suggest spending time at Lanai City. It is a small charming town located on the top of the island, providing much cooler weather than the rest of Lanai. Lanai City has multiple small restaurants and a grocery store. If you wish to have a picnic lunch, you can enjoy it at Dole Park, which is a large park with picnic tables in the center of Lanai City.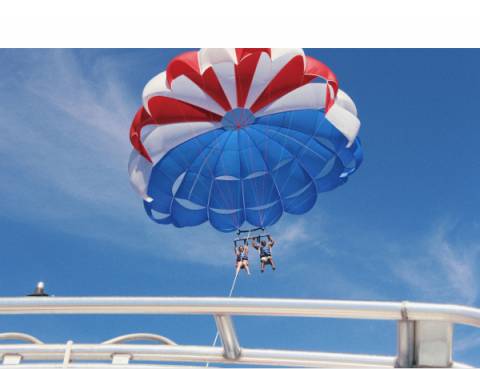 Parasailing
Parasailing is a seasonal activity on Maui that depends on the whales' migration time. As soon as the whales come to Hawaii from Alaska in late November, all parasailing stops and whale watching begins. You can enjoy parasailing from May to late November. Flying over the Kaanapali coast line, you will get a bird's eye view on the whole Kaanapali resort area, including the lush green golf courses and Maui Mountains. Parasail boats usually go about half way to Lanai, offering their customers unique aerial views of both Maui and Lanai. 
Please reserve your adventure in advance as Parasailing is a popular activity here on Maui. There are two main parasailing companies, both operating in Lahaina and Kaanapali: Maui Parasail and UFO Parasail.