Mango Season on Maui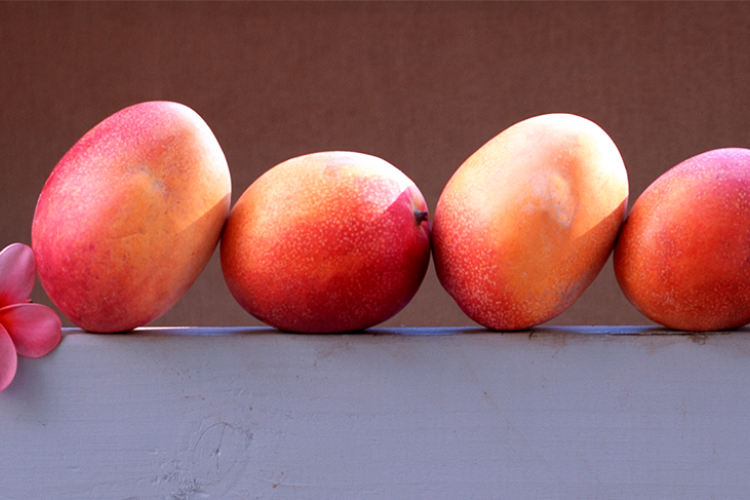 The time is near! The perfect, juicy, sweet and most delicious time of the year...Mango season! It is difficult to trace the date of introduction as there are a number of different lines of evidence and interpretations encountered. The first documented date introduction appears to be 1824, when Meek of the brig Kamehameha brought small mango plants from Manila. These were divided between Don Marin, a horticulturist in Honolulu, and Reverend Goodrich, a missionary in Wailuku, Maui. According to the published diary of Bloxam, a midshipman aboard the HMS, a British Navy frigate, three small mango were brought to Honolulu from Valparaiso, on this ship in 1825. These trees were planted presumably survived. Bloxam's diary also a list of some of the economic plants growing in Hawaii prior to 1825, which did include mango. Although both the 1824 and dates seem well documented, some have stated that mangos were introduced Hawaii before 1824. Dr. Willis T. Pope stated mangos were probably imported from Mexico Don Marin sometime between 1800 and 1824. So, really who knows? What is clear now is that there are mango trees all over Hawaii. Certain areas are renowned for their mango quality. Staying with Sullivan Properties, you are lucky in the mango world. Lahaina is known to have some of the best mangoes on the island!
Mango trees produce flowers from December through April. The trees will begin to bear fruit in May with peak season being July and some trees giving fruit as late as October. They prefer hotter drier areas and can grow over 100 feet tall. Many enjoy the fruit in its pure form but others craft the fruit into island dishes of every variety like shave ice, salsa, and cheesecake. Mango can also be dried, pickled and frozen (yes, for a smoothie or on some vanilla ice-cream!). During mango season in Hawaii, you can expect to find chefs across the islands taking advantage of the abundance of fresh fruit to create new mouthwatering mango dishes. Besides being very delicious, mangoes cover the ABC's of nutrition. They contain Vitamins A, B6, and C. Mangoes also provide fiber, folate and copper. They're a wonderful superfood! But, beware. Many people are allergic to this fruit. Both the sap and the inner flesh can cause allergic reactions. So, if you've never eaten a mango before, sample slowly.